A view of the CCERCI's Library
Founded in 1989 as the national institute for chemistry and chemical engineering research, CCERCI is now one of the most prestigious public research institute in the country.
The mission of CCERCI is to advance knowledge and the synergies between research and entrepreneurship through innovation and technological based discovery.Currently, CCERCI is comprised of 5 departments. Our research specialties are in Inorganic, Organic, Computational, Analytical and Oil/petroleum Chemistry.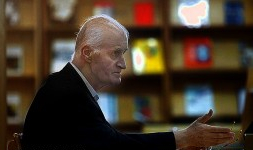 Professor Blourchian, Founder of CCERCI
Educational activities of CCERCI began at 1994 with admission of 4 students for master program in Analytical Chemistry and Organic Chemistry, through University Nationwide Test by the State Educational Assessment Organization. Then in 2000-06, students were admitted in master program in Inorganic Chemistry and Applied Chemistry as well. In 2010, CCERCI obtained the agreement of the Higher Education Extension Council to establish master program of Chemical Engineering. In 2011, with admission of student in Physical Chemistry and Chemical Engineering, it developed its activity. About one year later, 388 students were admitted.
Through follow-ups taken, this research institute obtained the final approval of the Higher Education Extension Council in 2008 for establishing doctorate program of Chemistry and Chemical Engineering. In 2011, the first student admission in Doctorate in Education-Research Methodology and in February 2012, in Doctorate in Research Methodology were accomplished.
CCERCI's Commencement Photo
Number of the graduates from CCERCI is 600 up to the end of September 2016, many of whom were admitted to the prestigious universities in Iran and abroad for continuing their education in the doctorate, or postdoctoral program.